We entered Tropical Cyclone Condition of Readiness (TCCOR) 1, a full 12 hours earlier than anticipated. Meaning, high winds imminent. Right now, Fitow, the name of our friendly neighborhood tropical storm, is tracking to hit us directly, at 9pm local time, tonight.
Here is some video taken earlier...
And some graphics from the tracking site... We are located at the 9pm spot.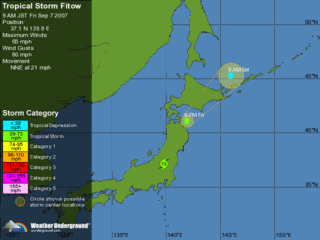 Where it was at 9AM this morning...