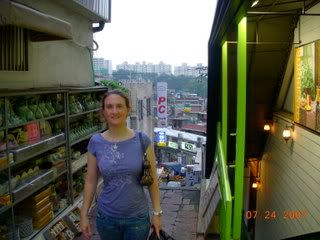 I've been in Seoul, South Korea for a few days now. I did some eating and shopping last night. Myself and two fellow travelers took a taxi to the Itaewon shopping district of Seoul. We spent the first hour or so looking through the shops. Two of us were looking for blankets; nice, heavy blankets you can only find in Korea or Japan.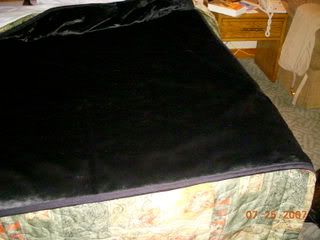 Nice, eh? Quite warm, too.
Curiosity led us down some back alleys, which led us to some nice surprises. We found a couple of streets with more upscale shops. Shops not containing the usual crap that you found in the more touristy areas, but shops with some really nice antiques. I mean, let me tell you, Seoul could be the antique capital of the world. All those "Antiquers" should grab their passports and book a trip to Seoul!
We also went to a tiny Korean restaurant in the heart of "Little Albania."
We had Kimchee...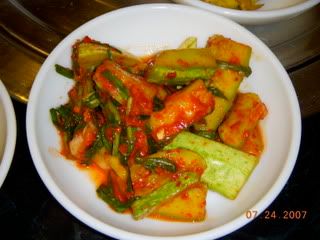 Bulgogi, which we cooked ourself at the table...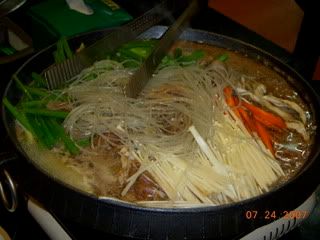 and some other pickled-fish dish that was also pretty good...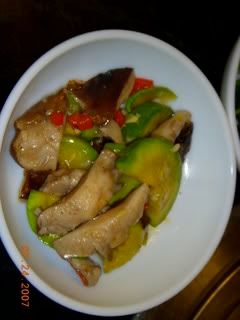 I also took in some sights...
a nice little view from in between two buildings...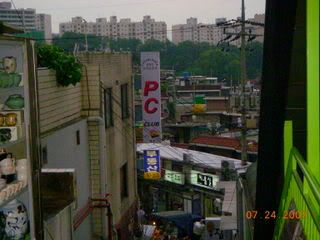 The "Welcome to Korea" archway.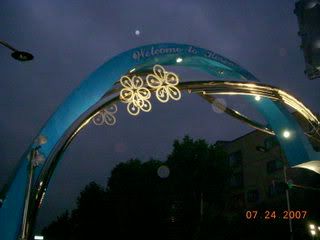 Korean McDonald's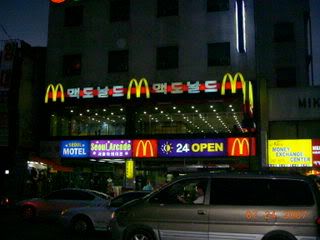 Now, I was watching the news, and Fox was reporting on the South Korean hostage situation in Afghanistan, and how it was the ONLY thing on all the stations here. However, walking around town, even though everyone had a TV set up on the street, everyone was glued to the set, it wasn't the news they were watching. It was the Asian Games Soccer Match between Iraq and the South Korean teams. That was the real thing people couldn't stop talking about.